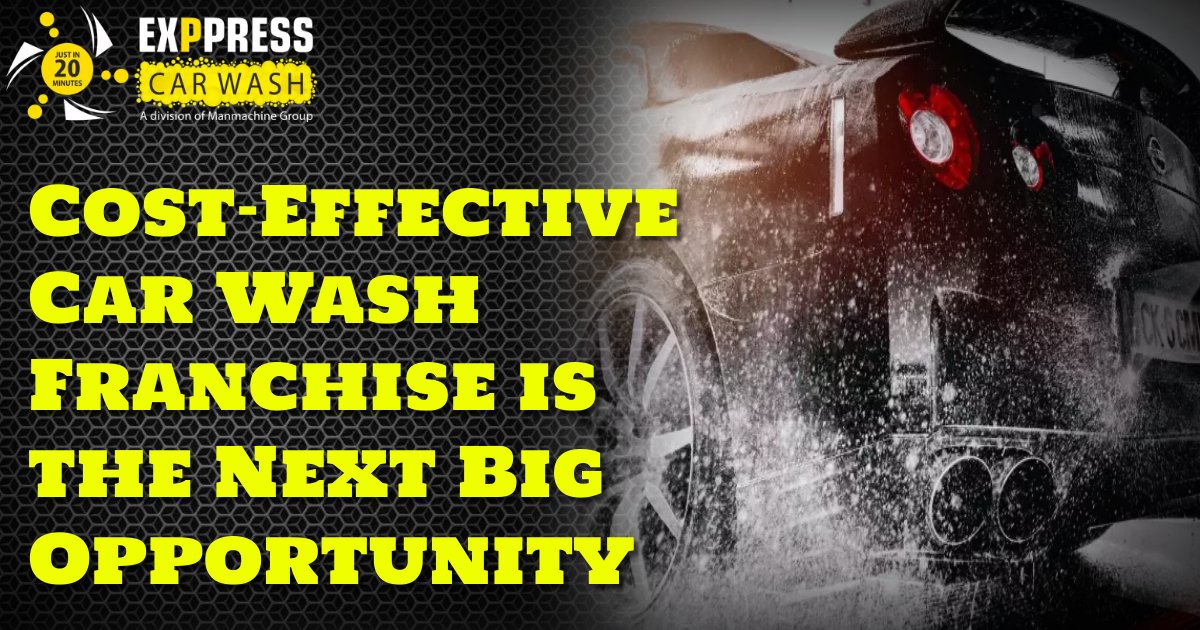 Cost-Effective Car Wash Franchise is the Next Big Opportunity
In the ever-evolving landscape of business opportunities, where industries rise and fall like tides, there are few sectors that have demonstrated the resilience and consistent profitability exhibited by the car wash industry.
Amidst this, the Exppress Car Wash franchise has emerged as a game-changer, revolutionizing automobile cleaning and detailing in India. With a rapidly growing number of vehicles hitting the roads, the demand for efficient car washing and detailing services has surged. It doesn't just provide a service; it offers an experience that resonates with the aspirations and expectations of a dynamic consumer base. Exppress Car Wash is more than a franchise; it's a revolution in automotive care.
Keep reading this blog to know why investing in a cost-effective Exppress Car Wash franchise might just be the next big opportunity for aspiring entrepreneurs.
Accessible Investment
One of the standout features of the Exppress Car Wash franchise opportunity is its accessibility in terms of investment. Traditional car wash businesses often demand substantial capital to kickstart operations. However, Exppress Car Wash breaks this trend by offering a cost-effective car wash business franchise model. This lowered entry barrier enables budding entrepreneurs to enter the car wash industry with significantly reduced financial risk.
Growing Demand
The driving force behind the success of the Exppress Car Wash franchise is the consistently growing demand for car washing and detailing services. As India witnesses a burgeoning number of vehicles on the roads, the need for efficient, convenient, and quick car cleaning solutions has become more pronounced than ever before. This surge in demand not only ensures a steady flow of customers but also provides franchisees with the potential for substantial profits.
Franchise Advantages in the Car Wash Sector
The car wash industry is witnessing a significant shift, driven by changing consumer preferences, technological advancements, and environmental consciousness. Amidst this evolving landscape, the Exppress Car Wash franchise stands out with a host of advantages that position it as a game-changer in the car wash sector.
Let's delve into these franchise advantages that make it a compelling choice for aspiring entrepreneurs looking to venture into the car wash business.
Streamlined Operations:

The Exppress Car Wash franchise has perfected the art of streamlined operations. The franchise model offers a systematic approach to automobile cleaning and detailing, minimizing wastage of resources, time, and effort. This approach not only ensures consistent service quality but also facilitates smoother day-to-day operations for franchisees.

Local Market Penetration:

Operating under the umbrella of an established brand like Exppress Car Wash gives franchisees a competitive edge when it comes to local market penetration. The brand's recognition, along with its reputation for quality service, allows franchisees to tap into an existing customer base while also attracting new customers through trust and credibility.

Innovation in Service:

The Exppress Car Wash franchise takes pride in its innovative approach to car cleaning and detailing. By adopting cutting-edge technology, eco-friendly practices, and premium products, franchisees can offer customers a distinctive and premium service experience. This innovation not only enhances customer satisfaction but also sets the franchise apart from local competitors.

Franchise Support:

Investing in an Exppress Car Wash franchise means being backed by a comprehensive support system. From training and guidance to marketing assistance, franchisees receive ongoing support to ensure their success. This support extends to various aspects such as operations management, staff training, and marketing strategies, allowing franchisees to focus on delivering exceptional service.

Scalability:

The Exppress Car Wash franchise is not just about launching a single car wash outlet. The scalability of this franchise model allows entrepreneurs to expand their car wash business over time. As the car wash business gains traction and customer loyalty, franchisees have the option to open multiple outlets, catering to different areas and demographics, thus increasing their revenue potential.

Community Engagement:

Being a part of the Exppress Car Wash franchise means becoming an integral part of the local community. Car wash businesses tend to build strong ties with their customers due to the frequency of visits. This presents a unique opportunity for franchisees to engage with the community, establish a loyal customer base, and even contribute to local events and initiatives.

Return on Investment:

At the core of any car wash business venture is the return on investment (ROI). Exppress Car Wash franchise offers a compelling ROI potential due to its low operational costs, efficient operations, and consistent demand for services. As the franchisee gains a foothold in the market, the revenue generated can lead to a satisfying and sustainable financial outcome.
Conclusion
In conclusion, the Exppress Car Wash franchise is paving the way for a new era of car cleaning and detailing in India. Its accessible investment, growing demand, streamlined operations, local market penetration, innovation in service, franchise support, scalability, community engagement, and promising return on investment collectively present a compelling case for entrepreneurs to seize this opportunity. As the automobile industry continues to thrive, becoming a part of this dynamic sector through a cost-effective Exppress Car Wash franchise could indeed be the next big entrepreneurial breakthrough.
Open Your Car Wash Business, Talk to our Franchise Expert Now +91-80-100-44-000
E-Mail Us: info@exppresscarwash.com