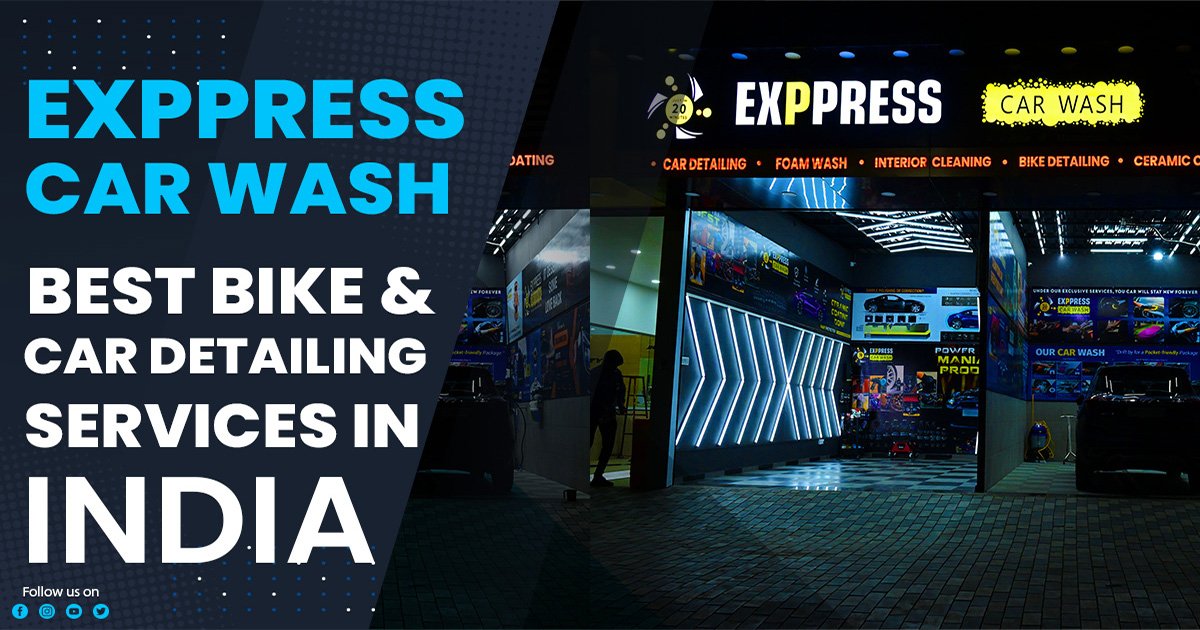 Exppress Car Wash - Best Bike and Car Detailing Services in India
Whether you own a bike or a car, giving it meticulous care and attention, and keeping it in a pristine condition is a must. Exppress Car Wash could be the leading provider of bike and car detailing services in India. With a dedication to excellence and a passion for automotive care, Exppress Car Wash has recognized itself as the go-to destination in India for car owners who are looking for the highest-level experts in detailing.
Keep reading this blog, to know about the exceptional services offered by Exppress Car Wash and the benefits of getting your vehicle detailed at Exppress Car Wash.
Benefits of getting your vehicle detailed at Exppress Car Wash:
Quality Products and Materials

Convenience and Time-Saving Solutions

Value for Money

Nationwide Presence

Commitment to Sustainability

Trust and Reputation
Offered by Exppress Car Wash –
The Art of Car Detailing:

Car detailing is a comprehensive cleaning and restoration method that goes beyond simple vehicle wash. It includes thorough consideration and attention to detail and using specialized techniques and products to boost the appearance and condition of a car or bike. Exppress Car Wash takes automobile detailing to an entirely new level with its team of expert professionals and state-of-the-art equipment.

Unmatched Expertise in Bike Detailing:

Exppress Car Wash does not just cater to vehicle proprietors; they also offer unparalleled bike detailing services. With deep expertise in the particular necessities of bikes, Exppress Car Wash ensures that bike cleaning and detailing get the same level of attention and care as their cars. From thorough cleaning and waxing to paint correction and scratch removal, their bike detailing services depart no stone unturned.

Comprehensive Range of Services:

Exppress Car Wash takes pride in providing a wide variety of services to cater to every aspect and part of Car cleaning and detailing. Whether it is a basic vehicle wash, interior detailing, paint protection, or engine cleaning, their team is prepared with the information and know-how to deliver exceptional results. With a commitment to consumer delight, Exppress Car Wash guarantees that each service is tailored to the specific needs of the automobile.

Cutting-Edge Technology:

Exppress Car Wash remains ahead of the curve by means of embracing the modern era in the field of car cleaning and detailing. From advanced steam cleansing systems to environmental-friendly products, they let the latest innovations provide environmentally friendly services. This commitment to technology guarantees that Exppress Car Wash stays at the leading edge of the industry, delivering top-notch results at the same time as minimizing its ecological footprint.

Skilled and Trained Professionals:

The achievement of Exppress Car Wash lies in the hands of their professional and expert professionals. Their crew of detailers undergoes rigorous education and possesses an in-depth understanding of numerous detailing strategies. With their information and attention to detail, Exppress Car Wash continuously delivers exquisite outcomes, restoring automobiles to their unique glory.

A Commitment to Customer Satisfaction:

Exppress Car Wash places customer satisfaction at the heart of its operations. They understand that every automobile requirement is unique, and they strive to exceed client expectations with every service. By the usage of excellent products, paying attention to even the slightest details, and offering personalized solutions, Exppress Car Wash ensures that clients leave their premises with a smiles on their faces and a vehicle that looks shiny and brand new.
Conclusion
Exppress Car Wash has undoubtedly earned its reputation as the best bike and car detailing service provider in India. Their dedication to the art of car detailing, comprehensive range of services, cutting-edge technology, and highly skilled professionals set them apart from the competition. When it comes to giving your vehicle the care it deserves, Exppress Car Wash is the name to trust. Experience their exceptional services and witness the transformation of your vehicle, making it shine like never before.
Trust in Exppress Car Wash to provide tremendous services to bring out the true beauty of your vehicle and witness the joy of driving a perfectly detailed automobile.